Around 25,000 people currently live in Jumeirah Village Circle
Dubai developer Nakheel has confirmed that three new entry/exit points connecting its Jumeirah Village Circle development with Hessa Street have opened on Wednesday.
The move marks the completion of its Dhs18.5m roads improvement scheme.
The opening will allow for "easier access, shorter journey times and improved traffic flow" at JVC, Nakheel said in a statement.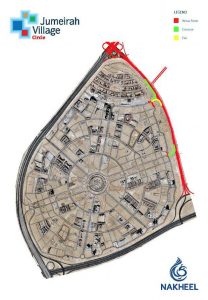 The contract to build the access roads was awarded to UAE-based DX Contracting and National Gulf Construction. Work began in February this year.
A spokesman said: "We thank the RTA for its commitment and co-operation in enabling us to complete this work efficiently, effectively and on time."
Around 25,000 people currently live in JVC, with a predicted population of 300,000 when the 560 hectare master community is fully complete.
Nakheel is currently constructing the Circle Mall, a new shopping hub in JVC with 235 shops, restaurants and cafes and a multi-screen cinema. The developer also said 33 landscaped parks – spanning four million sq ft in total – are all complete.
Nakheel has so far delivered more than 700 villas at JVC, with 305 buildings, villas and townhouses by third party developers complete or under construction.
A further 183 residential, commercial and hospitality buildings by sub-developers are currently in design stage.
All rights reserved to the initial publisher for gulf business.
Collected and published by Arms &McGregor International Realty® editorial team. Get in touched with
us at [email protected]