Too many modern flats are samey and soulless. A new book celebrates the architects coming up with creative solutions for our overcrowded cities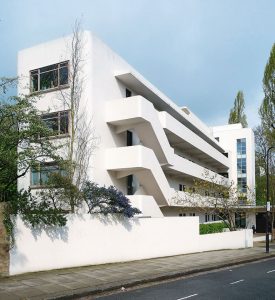 Michael Webb is a lucky man. An architecture and design critic, he has lived for nearly 40 years in a modernist hilltop apartment in Los Angeles, the same development where Orson Welles used to live. It is "well-planned…with abundant natural light", surrounded by trees that give shade and privacy, and has windows "that pull in breezes from the ocean". Two of its previous owners, Charles and Ray Eames, loved living there so much that when they moved out they wrote to its architect, Richard Neutra, to thank him.
Unsurprisingly, Webb is a strong advocate for flat-dwelling. In the introduction to his new book, "Building Community: New Apartment Architecture", published by Thames and Hudson, he speaks of an "urgent need to build many more apartments" to relieve housing shortages in our cities, to use land more economically and to avoid long commutes to suburbia – which he describes as a "wasteful delusion". (You can't imagine him being a fan of the British government's proposed solution to the housing crisis, which is to build houses in new, commuter-friendly garden villages.)
Sadly, he explains, most modern apartments are terrible. Risk-averse, profit-hungry developers conspire to produce blocks and towers packed with "claustrophobic cells [that] open off double-loaded corridors. Light and air come from one side only, and balconies are usually vestigial." A brief survey of the finest modernist and brutalist schemes – from the Isokon building in Hampstead to Le Corbusier's Unité d'Habitation in Marseille – is a depressing reminder of our current paucity of imagination.
In an attempt to demonstrate the "unrealised potential" of the apartment building, Webb has gathered together 30 examples of recent developments from around the world. They range fom luxury flats to social housing; from low-rise buildings to high-rises. There aren't as many photographs of the interiors as there might have been and while Webb has interviewed many of the architects you long to hear the voices of the residents (who are, after all, the ultimate judges of a building's success). But it's fascinating to see these creative responses to the deceptively simple challenge of fitting a lot of people into a small space.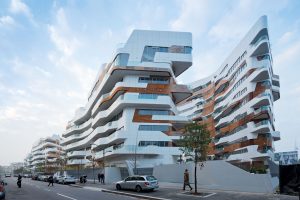 CityLife, Milan, Zaha Hadid Architects (2004-14)
During the noughties, starchitects were falling over themselves to build apartments for the well-to-do. Zaha Hadid's flats form part of the gated residential complex at CityLife, a 1km sq development in central Milan, which includes skyscrapers by Hadid, Daniel Libeskind (who also designed apartments) and Arata Isozaki, as well as a park and its own subway station. The streamlined curves of some 1930s flats (see the Isokon building) were a nod to the design of ocean-liners. Hadid's apartments, with their rippling façade of cedar and white enamel, have all the subtlety of a mega-yacht. She wasn't commissioned to design the apartment interiors ("probably just as well", says Webb) but she did "shape the spaces", adding even more curves for interior designers to contend with.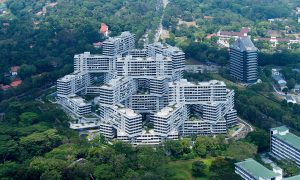 The Interlace, Singapore, OMA/Ole Scheeren (2007-13)
Imagine two giants playing Jenga and you have the Interlace, an apartment complex that is at once outrageous and awe-inspiring. Ole Scheeren, its architect, was so bored with the clusters of high-rises that were springing up all over Asia, that when he got a brief to fit 1,040 units over 20 acres, he decided to try a novel approach. The result is a kind of deconstructed high-rise – complete with Olympic-sized swimming pool and a thoughtful amount of greenery – that Scheeren believes is a prototype for affordable living. He is proud that the Interlace is 90% occupied, "unlike many upscale towers that have become ghost towns because apartments are bought for speculation and sit empty."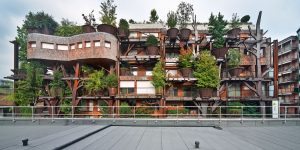 25 Verde, Turin, Luciano Pia (2007-13)
If the Swiss Family Robinson moved to Turin they would feel right at home in this green-fingered fantasy. The block incorporates 150 trees, looked after by residents with help from gardeners, who also tend the building's communal garden. It is part of a growing trend for architects to "build" live trees into their creations. As well as being pleasing aesthetically, trees muffle noise pollution and provide shade and privacy. The 63 apartments, which, says Webb, "have attracted a diversity of middle-income residents", range in size from 480 to a generous 1,720 sq ft.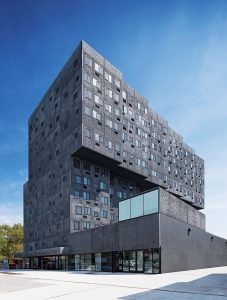 Sugar Hill, New York, Adjaye Associates (2012-14)
"We tried not to make something merely acceptable to the poor – I find that idea quite offensive…what excited me was to create a building that was not just about housing [but rather] a new urban experience." It was precisely David Adjaye's excitement that convinced Broadway Housing Communities, a non-profit organisation, to commission him to build this 13-storey, mixed-use development in Harlem.
Clad in dark concrete that has been ribbed to catch the light, it is dotted with square windows which playfully reference the local architecture (although some neighbouring residents have compared it to a prison). As well as 124 flats – 70% are for people earning less than half the average wage and 25 are for homeless people – the building contains a children's education centre, a children's museum and workshops where residents are encouraged to make their own art.
It's disappointing that the flats don't have balconies and that most are single-aspect, with windows at just one end. It's also a shame – especially given the family-focussed public areas – that there are so few three-bedroom flats (each floor contains only one, compared with five studio apartments). But architects have to work within tight constraints, both financially and in terms of the units they are asked to provide.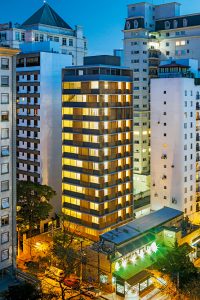 V_Itaim, Sao Paulo, Studio MK27 (2011-14)
One of the biggest objections people have had to living in flats is the lack of privacy. This is even more of a problem now, with the ubiquitous floor-to-ceiling windows found in modern developments. The architects of this tower block in Sao Paulo have devised an ingenious, and beautiful, solution. Shutters made from perforated freijo wood can be slid and folded across the windows, shielding residents from nosy onlookers and providing shade, as well as adding an ever-changing pattern to the concrete façade. If only the developers of the London flats that are overlooked by the viewing gallery at Tate Modern's new extension, the Switch House, had been so imaginative.
Building Community: New Apartment Architecture, Thames & Hudson, February 23rd
All rights reserved to the initial publisher for 1843 magazine.
Collected and published by Arms &McGregor International Realty® editorial team. Get in touched with us at [email protected]