A new shopping mall and hotel are set to open in Motor City early next year as part of an investment worth Dh500m that will drive development in one of Dubai's most sought-after suburban quarters.
First Avenue, based at the edge of the Dubai Autodrome, will have 70 high-street retailers and 15 casual dining restaurants.
The four-star 150-room hotel, which adjoins the mall, will be operated by Park Inn by Radisson.
The hotel overlooks the race track at Dubai Autodrome.
First Avenue will be a social and retail hub for the Union Properties-developed Motor City, with a distinct automotive and lifestyle theme.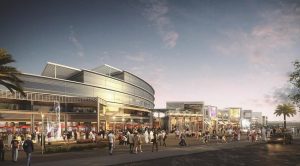 The two-storey development stretches across 500,000sq/ft, with a one-kilometre roadway linking each end.
The development, owned and operated by Saudi Arabia's Al Tawfeeq for Development and Investment (ATDI), will open in the first quarter of next year.
First Avenue is strategically sited in a rapidly growing suburban area of Dubai, close to Sports City, Arabian Ranches, Al Barari, Silicon Oasis, Nshama, Mudon, Studio City and Dubai Production City.
It is a short drive from Maktoum International Airport and the Expo 2020 site.
The area is rich in facilities like parks, schools and swimming pools.
First Avenue is designed as an environmentally friendly, contemporary, European-style mall, with an indoor-outdoor boulevard and Arabesque influences.
The mall expects to attract footfall from a densely populated catchment area, with the shops, restaurants, healthcare services and a hotel drawing visitors across all market segments, especially families, tourists and business people.
Locally, the community can get all the services they need at First Avenue, making it an all-week-round destination rather than just somewhere to go at the weekend.
The development will have a children's entertainment area, as well as an underground car park with 400 spaces.
The Park Inn by Radisson will have 150 rooms, all-day restaurant, lobby, meetings and events space, gym, spa and swimming pool. It can be accessed directly from the mall.
The development is located at Dubai Autodrome, which is open throughout the year offering indoor and outdoor karting, racing experience and a laserdrome. Dubai Autodrome is a world-class motorsport facility, with national and international races and suites for corporate hospitality.
Dr Ramy Moussly, ATDI General Manager, said First Avenue is an exciting development whose appeal is as much to tourists, shoppers, families and business people as it is to sports, lifestyle and racing enthusiasts.
"This is a project differentiated by the excitement of the race track and the contemporary style of the shopping and hotel experience, set against the backdrop of a rapidly growing suburban quarter of Dubai," said Dr Moussly. "The development meets local demand for an easily accessible retail and hotel experience, with car parking, restaurants and entertainment options right on the doorstep. In Motor City, the catchment area is peopled by a young, educated and affluent demographic. The area's population is growing, fueled by young expatriates who are looking for something new and different. At every level, First Avenue fits their needs. As Dubai's development moves southwards, First Avenue is strategically located to serve a growing and discerning market," he added.
By 2020, Dubai's population is expected to jump to 2.8 million, with an average growth rate of 3.8 per cent. Much of this growth will be driven by expatriates who make up about 90 per cent of the population.
Almost one-third of the UAE's population is between 25 and 34, with strong consumer spending power.
By 2020, the Government wants 20 million tourists to visit Dubai, with hotels providing much of the enabling hospitality infrastructure.
By 2020, Dubai's retail market is expected to exceed US$52 billion in sales, with average annual growth of more than 8 per cent, according to Dubai Chamber of Commerce and Industry.
All rights reserved to the initial publisher for emirates247.
Collected and published by Arms &McGregor International Realty® editorial team. Get in touched with us at [email protected]