Al Futtaim Carillion, a Dubai-based company, will be the main contractor for the key development of the three Theme Districts at Expo 2020 Dubai.
The contract announced today is worth Dh2.2 billion and is the first of Dh11 billion worth of construction contracts that Expo 2020 Dubai plans to award in 2017.
Expo's three Theme Districts will be named Opportunity, Mobility and Sustainability after its three sub-themes and the design will reflect traditional Dubai architecture.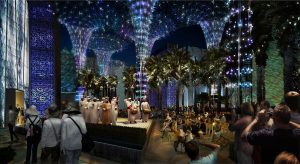 When Expo 2020 Dubai opens on 20 October 2020, the Theme Districts will be home to 136 pavilions for many of the participating countries, non-governmental organisations (NGOs) and commercial partners at Expo, and will host cutting-edge exhibits and experiences for Expo's many millions of visitors to enjoy.
In total, the Theme Districts and the buildings within them will have a floor area of 222,000 square meters.
Ahmed Al Khatib, Vice President – Real Estate at Expo 2020 Dubai said that the award marked an exciting step in the growth of Dubai, both for the six months of the event itself and beyond as the Districts and full Expo site become an integral part of Dubai South's vibrant and varied new development.
"We commenced the construction of the infrastructure last year and are right on track with our plans. With the Theme Districts construction award, we are starting the main phase of buildings and construction," he said.
"All excavation works for the Theme Districts basements have been completed and are ready for the appointed contractor to begin construction."
Ahmed Al Khatib added that flexibility of use was the key design consideration for the Districts as part of Expo 2020 Dubai's legacy after its closure in April 2021, when they will become a vital part of the future Dubai South ecosystem for its residents and visitors.
He continued: "We will follow up with other construction awards this year."
"It's a big moment in the life of this event. The Theme Districts will be a major part of the site, explored and enjoyed by many thousands of people daily during the six months of Expo 2020 Dubai."
Al Futtaim Carillion was successful in a competitive procurement process.
Ahead of any major construction package, Expo 2020 Dubai runs a pre-qualification process open to all contractors. Thirty-five from around the world responded for the Theme Districts.
Ahmed Al Khatib added: "Al Futtaim Carillion has a proven record of successful delivery of buildings and infrastructure projects for the commercial and public sectors in the UAE. Their experience, knowledge and capabilities on major projects qualifies them to undertake the Theme District construction work for Expo 2020 Dubai.
"Contractors were assessed and shortlisted based on their capabilities, their approach towards construction and safety, their proven commitment to quality and timely delivery, their strong supply chain, and equally their ability to deliver sustainable solutions. This matches our intention to obtain the Gold category Leadership in Energy and Environmental Design LEED Gold certification, which is one of the most popular green building certification programmes used worldwide."
Public spaces in the Theme Districts will host innovative shades and climate control solutions, which together with the passive design of the buildings, will create a comfortable and enjoyable visitor experience.
Edmund Mahabir, Managing Director of Al Futtaim Carillion, welcomed the announcement. "Expo 2020 Dubai is a landmark project for the UAE as the first World Expo to be held in the Arab world and Middle East, Africa and South Asia (MEASA) region.
"Al Futtaim Carillion has been operating as a Dubai-based joint venture since 1972. We are very proud to be able to play a role in the construction of the site for Expo 2020 Dubai, a venue that will play an important role in the Golden Jubilee celebrations of the UAE," he said
"We're now mobilising and are excited to be starting work before the end of March."
All rights reserved to the initial publisher for Emirates 247.
Collected and published by Arms &McGregor International Realty® editorial team. Get in touched with us at [email protected]