How much would you pay for a one-bedroom apartment in Dubai? An arm and a leg is reasonable
For this list, we have taken Dh70,000 as a soft starting point for expensive one-bedroom apartments because we know of great areas, in Deira and old Dubai where you can get spacious two-bed apartments for around Dh70000. We did the hard work and found the most expensive one-bedroom apartments according to RERA.
Most expensive areas to rent on-bedroom apartments
These RERA (Real Estate Regulatory Authority) index values do not denote actual rent demanded by landlords. It only determines if a landlord is allowed to increase rent for an existing tenant, given he or she wants to renew the tenancy contract for another year. So, if you're already paying exorbitant rates, even to almost four to five times these values, the RERA index ensures that your landlord cannot increase the rent while you decide to continue living there under a renewed contract.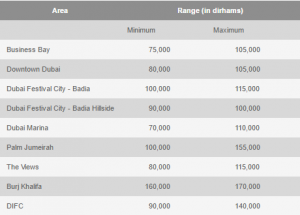 All rights reserved to the initial publisher for Gulf News.
Collected and published by Arms &McGregor International Realty® editorial team. Get in touched with us at [email protected]