Homeowners decide to do renovations for many reasons but they all should create a renovation budget to ensure to stay on track. Maybe you have been going through a magazine and decide to get your kitchen transformed. Or, the electrical wiring is old and must be replaced. Maybe the kids have moved out and now you want to turn their rooms into a study, or a media space.
Clearly, the reason behind the renovations vary but one elements is common: a budget. Home owners who create a budget will have the opportunity to stay on task and not overspend.
A home renovation budget can strike fear into the hearts of homeowners, but do not worry because if you have a plan visualized and have a budget things will run smoothly. Here is the step by step guide on how to make a budget.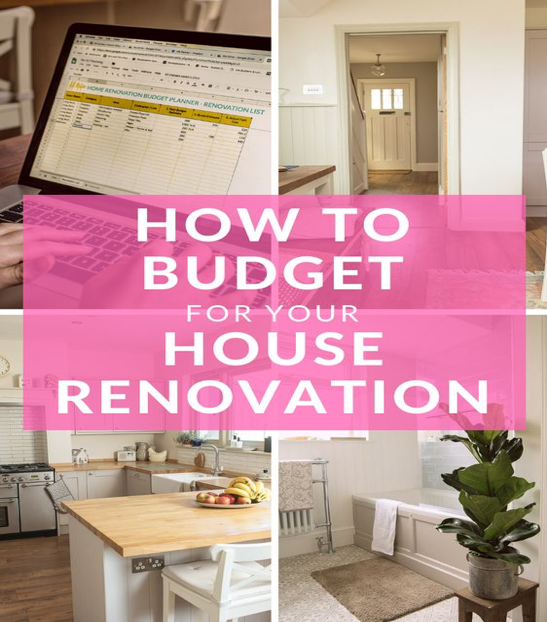 Set Your Goals
Write many goals at first do not worry about the budget. Just get your thoughts on paper to know what aspects of change you want and what are the necessities. The more specific your goals are, the better. For example, do not write, 'renovate the washroom'. Rather, itemize what you have to change and according to that set your budget. To estimate the costs, you need to get a handle on how extensive the changes will be. There is a difference between changing the color, replacing the fixtures and replacing a sauna instead of a shower.
2) Determine The Professionals and Equipments You Need
Once the list of goals is complete, it is time to determine which professionals you need. Home renovations are done by several groups of people, sometimes even you. If the renovation is small, you may have to hire individual workers. Or you can also do a DIY for the small renovations. However, bigger renovations may need carpenters, painters, interior designers etc.
3)Figure Out Your Budget
Renovations can be pricey. The average costs for kitchen renovation is around $20,000 according to HomeAdvisor. The average bath renovation costs $6,000-$10,000. Renovations depend on the square footage. Be aware that many factors contribute to the costs other than square footage. Material costs and types of fixtures and appliance costs are different for different amounts and quality.
It is better to always add extra 20% as a contingency budget as remodels are famous for always costing more than estimated.
4)Get Estimates
Next stage is to identify the estimate cost, for this it is essential to call an expert and inform them what changes you want. Finding the right professional for the job at hand is necessary for it to be successful and accurate.
It is also important for you to research the professionals, ask friends and family for references. Look at various reviews online. As renovations can cost a lot of money and you do not want to be spending more than required.
5)Do It Yourself
If you are comfortable with doing a DIY, it will definitely cut costs. Try doing it yourself even though it may take more time. A key component is to take only those projects and areas which you are comfortable in and think can do it yourself. If not sure, do not risk getting hurt and hire professionals.
6) Consider Cost-Saving Methods
Consider some cost- saving methods as well, often suppliers charge less for models about to go out of production. Stores have clearances for renovation materials too. Ask the professionals if a discount is possible during the less busy months. For example, contractors are busier during the spring and summer months and ask for more money, so it is possible to get a discount during fall or winter.
7)Other Home Renovation Considerations
There are some important factors to be considered before embarking the renovation process and some of them are;
a)Home Size– The bigger the house is the more the renovation will cost as they take more material, time, people and one should consider this before planning for the renovation.
b)Property Age-The older your property is the more the risk there is that the contractors will find outdated materials which can give rise to potential hidden costs. For example, wiring in older homes is not always updated to the current code so if you plan on changing walls or tearing up a room, you need to plan the possibility of the contractor needing to replace the wiring.
c)Obtaining Permits– It is important to be aware of any permits that are required before making any changes in your home. If a permit is skipped, you could have to pay large fines and stop the renovation.
Whatever are the reasons for the renovation of your home, developing a plan with a workable approximate budget is a must. Use this step-by-step guide to get your renovation with the price you can afford.
Written and published by Arms &McGregor International Realty® editorial team. Get in touch with us at [email protected]