Where to invest in Dubai if you had a million dirhams
With the affordability segment growing in the Dubai property market, homebuyers looking for property worth up to Dh1 million now have a variety of options and areas to choose from. Property experts highlight some of the key zones to consider.
Jumeirah Village Circle (JVC)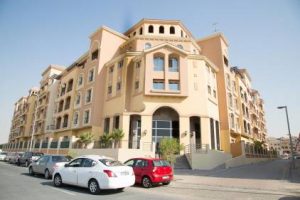 JVC is an emerging gated community offering mid-income housing options — apartments, town houses and villas in a mix of established and off-plan projects. The place is easily accessible from two major highway networks: Shaikh Mohammad Bin Zayed Road and Al Khail Road.
Ozan Demir, research and data manager of Reidin, says, "Over the last few years JVC has witnessed an upsurge in popularity due to its attractive pricing and affordable housing projects. According to Reidin, the current pricing for the community stands at Dh915 per square foot. When compared to kindred areas, JVC's sales price only lags behind International City, Discovery Garden and Dubai Silicon Oasis. As the size of a specific unit increases the per-square-foot rate decreases. So with Dh1 million in hand, a buyer can purchase a unit ranging from a 600-sq-ft studio to a 1,000-sq-ft two-bedroom unit."
The community is still under development, with patches of land under construction all throughout JVC, which is expected to mature by 2020, says Demir. "The units located towards the centre would have a marginal price difference from units located close to the entry/exit points. As the area matures over the next few years, prices will standardise. Currently, the entry and exit points at JVC are limited, but Nakheel has recently been awarded a Dh18.5-million contract to construct the new JVC access points, which will improve traffic flow and reduce journey times."
Some key projects are The One by The First Group, Tower 108, formerly known as The Vantage, and Viceroy Dubai (Suites in the Skai) by Five (formerly Skai) Holdings.
Arjan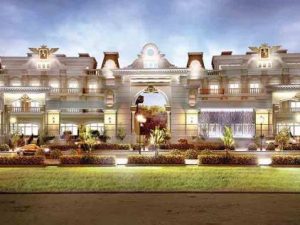 Arjan is an emerging, mixed-use community in Dubailand, offering a mix of affordable residential, hospitality and retail units. Spread across 10 zones with 157 plots, the place is accessible from Shaikh Mohammad Bin Zayed Road and Al Khail Road through Umm Suqeim and Hessa Street.
Lynnette Abad, partner and head of Property Monitor, says, "The area is currently undergoing construction for a number of developments and is expected to witness a significant number of projects being handed over by 2019, including Vincitore Boulevard and Resortz by Danube, offering studios and one-bedders for less than Dh1 million. Options for ready apartments for a budget of Dh1 million are on projects like Lincoln Park and Vincitore Palacia [pictured], which is expected to be handed over in the third quarter this year. Community prices are Dh794 per square foot for ready property."
Dubai Sports City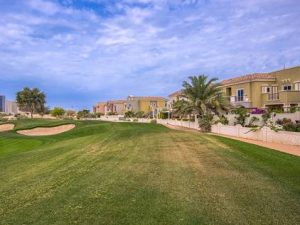 Dubai Sports City is a developed community, offering numerous sports facilities and housing options, both villas and apartments that provide good value for money.
Damien Hodgson, senior global property consultant at Gulf Sotheby's International Realty, says, "The area still requires some finishing to its infrastructure, but it provides all the necessary attributes for a community to operate smoothly."
"Buyers can get one-bedroom apartments for Dh750,000 in good-quality towers, studios in the better towers for Dh650,000-Dh700,000, brand-new and off-plan units for Dh999,990 on a 30-70 payment plan and smaller two-bedroom apartments for Dh1 million," says Hodgson. "The current rate is Dh750-Dh900 per square foot. Buyers with a Dh1-million budget can get a studio of 450 sq ft to a one-bedder of 1,000 sq ft or a small two-bedroom apartment of 1,100 sq ft. The Elite Residence offers good value for money, The Matrix is the best building and the Canal Residence boasts of a good location."
Dubailand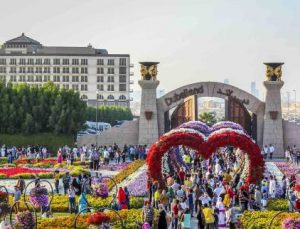 Dubailand consists of a mix of sporting, entertainment, retail and residential communities. The residential options here include affordable and luxurious housing units — from apartments, town houses to villas. The place is accessed through Shaikh Mohammad Bin Zayed Road, Al Khail Road and Emirates Road.
Demir says, "Residential areas such as Arjan and Dubailand Residential Complex (DRC) are one of Dubai's emerging residential and commercial districts. Arjan has a sales price of Dh1,015 per square foot. On the other hand, DRC currently has a selling price of Dh785 as per Reidin price trends. A buyer can purchase anything from a 350-sq-ft studio to a 1,200-sq-ft two-bedroom unit in DRC and a 430-sq-ft studio to a 1,050-sq-ft two-bedroom unit."
"Some projects worth watching include Phoenix Tower by Phoenix Holdings, Platinum One by ACW Holdings and Miraclz Tower by Danube Properties," he adds.
Dubai South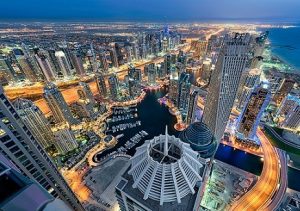 Dubai South is set as clusters and includes residential, commercial, logistics, aviation, humanitarian and even a golf district. Once completed, it will be one of Dubai's prominent locations that houses the Al Maktoum International Airport and the Expo 2020 Dubai site.
"Dubai South is a new and completely under-construction area, offering a large number of options for off-plan investments," says Abad. "The key projects in Emaar South are expected to be handed over before 2020, including MAG 5 Boulevard in Q3 2018 [pictured], The Pulse in 2019, Golf Views in 2019 and Urbana in 2019, providing studios and one- and two-bedroom apartments within the Dh1-million mark. The present pricing stands at Dh888 per square foot for studios starting at 390 sq ft to two-bedroom apartments of 1,289 sq ft and town houses up to 1,832 sq ft."
Dubai South is accessible via Shaikh Mohammad Bin Zayed Road and is served by public buses. Work is under way to extend the Dubai Metro line to the area and for a tram network. It is also near key employment and entertainment areas.
All rights reserved to the initial publisher for Gulf news.
Collected and published by Arms &McGregor International Realty® editorial team. Get in touched with us at [email protected]