Admares has started work on phase 1 of $272m Marasi Business Bay
Finland-based Admares has said it will transport the first "floating" homes and restaurants in Marasi Business Bay project on Dubai Water Canal by year-end.
In May 2016, Dubai Properties Group, a subsidiary of Dubai Holding, launched the $272 million (AED1 billion) project comprising a 12-kilometre promenade, water homes, floating restaurants and five palm tree-lined marinas.
Admares said it commenced production on the project's phase 1, consisting of 10 water homes, two restaurants and a yacht club, in Finland in October 2016. The homes will be transported by sea to Dubai by end of 2017.
"Our objective is to create unique, innovative and environmentally friendly real estate products, utilising multi-disciplinary off-site construction technology," said Admares chief executive office Mikael Hedberg.
"We started at the top with our first project in the emirates, working with Jumeirah and Dubai Holding for the Burj Al Arab Terrace. Having successfully delivered the new resort extension – the biggest-ever undertaking of its kind in the world – we now have another project where the client was looking to create a landmark development with a high degree of innovation and quality".
Abdulla M. Lahej, Group CEO of Dubai Properties said Marasi Business Bay is in line with the Dubai Plan 2021 to create a smart and sustainable city, ahead of the World Expo 2020.
"As a leading master-developer, we stay one step ahead by working with speed and efficiency to seamlessly create blueprints for success and deliver exceptional lifestyles, value and a lasting impact for the betterment of Dubai," Lahej said.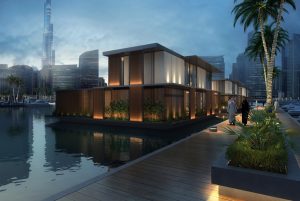 All rights reserved to the initial publisher for lighter side of Arabian Business.
Collected and published by Arms &McGregor International Realty® editorial team. Get in touched with us at [email protected]