Dubai has been named as the region's most sustainable city, but it still falls in the bottom half of a new global ranking of 100 major cities.
Construction consultancy Arcadis has placed Dubai 52nd in its 2016 Sustainable Cities Index, which was compiled by the Centre for Economic and Business Research. Abu Dhabi was the second-highest of eight cities ranked in the region, finishing 58th overall. The lowest-ranking regional city, finishing 86th overall, was Amman in Jordan.
The ranking is based on three sub-indexes – people (social), planet (environmental) and profit (economic). Dubai scored extremely highly on the profit index – it was the fourth-highest city globally, ahead of New York, Paris and Tokyo. However, it was one of the lowest-scoring cities in the environmental ranking, finishing 96th out of 100. It lost points owing to high levels of energy consumption and pollution, as well as a lack of green spaces.
Abu Dhabi only finished one place above Dubai (95th) in the environmental list, but also scored highly in the profit index (13th).
"Energy consumption and carbon emissions do remain high in Dubai and Abu Dhabi, largely due to the climate, volume of development, and the traditional reliance on fossil fuels," said Ben Khan, a client development director for Arcadis Middle East.
"This is an area that both cities are actively looking to address though, and it forms a key part of the UAE's Vision 2021," he added. "The focus on improving the energy efficiency of buildings through rating systems like Estidama and Al Safat will help, as will planned investment in upgrading the water and transport networks in both cities."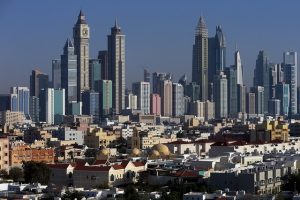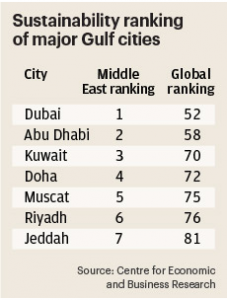 All rights reserved to the initial publisher for thenational.ae
Collected and published by Arms &McGregor International Realty® editorial team. Get in touched with us at [email protected]