Visitors enjoy Dubai theme park preview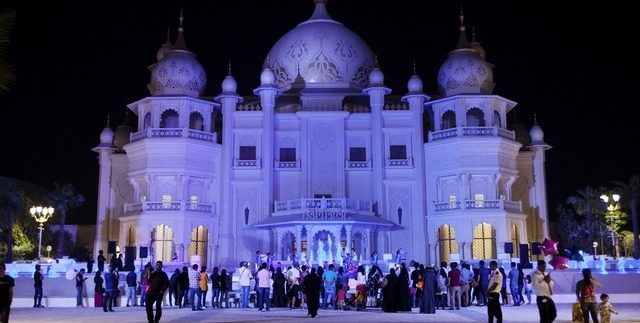 DUBAI // A lucky few enjoyed a preview of what the region's largest theme park destination has to offer on Saturday.
Dubai Parks and Resorts opened the Hollywood movie inspired Motiongate a day before its official opening on Sunday, and preview visitors were allowed to take in Bollywood Parks and Legoland Dubai, which are already open and have proved to be powerful attractions.
Visitors to Motiongate were impressed by what they saw.
Margret Zomba, a Dubai resident who visited with her children and parents, said she was impressed by the variety on offer.
"I feel it's totally worth the cost, especially on these festive winter days. One could get lots of discounts and deals," said Ms Zomba, from Denmark.
Santosh Iyer, 42, an Indian, travelled from Bahrain with his wife and a daughter to attend Bollywood Parks.
"I was not expecting such a fine theme park based on Bollywood," he said.
"Even in India, which is the hub of Bollywood, one cannot imagine establishing and running such a grand park. It's certainly a delight for all those who love Indian cinema and Indian films."
Asma Ali, 23, a Pakistani who lives in Dubai, was not sure if the Bollywood park had the broad appeal of its neighbouring attractions but she said: "I can see lots of Arab girls, along with Indians and Pakistanis, coming here to celebrate their favourite Bollywood heroes.
"At least I am expecting, from one of the doors, Shah Rukh [Khan] will come out and surprise us."
Raeed Kajoor Al Nuami, chief executive of DXB Entertainment, which manages the parks, said the attractions had been three years in the making.
"Our aim is to create a legacy for entertainment in the region for the communities and charities we will support and for the residents and tourists who will make great memories," he said.
Legoland, Bollywood Park and adjacent retail and dining destination Riverland opened to the public last month.
Motiongate opened on Saturday, while Legoland Water Park will be open on Sunday.
While some of them are still under construction, there will eventually be more than 100 rides and attractions across the three parks.
All rights reserved to the initial publisher for lighter side of The national
Collected and published by Arms &McGregor International Realty® editorial team. Get in touched with us at marketing@armsmcgregor.com