Mirdif re-emerges on freehold investor radar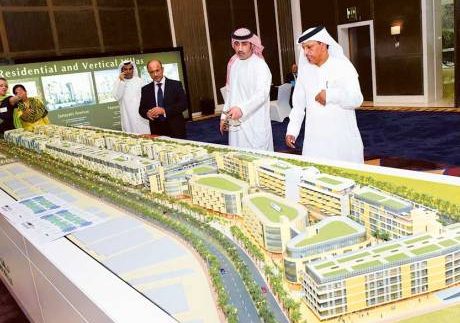 Dubai Investments subsidiary launches first phase of Mirdif Hills
Dubai: Freehold options in Dubai are spreading far and wide for investors, with Mirdif's chances getting a boost courtesy of a new and sprawling mixed-use community.
The first sales phase featuring 390 units at the Dh3 billion 'Mirdif Hills' — located bang opposite Mushrif Park — opened on Saturday, with one-bedroom apartments starting from Dh1.1 million and top-of-the-line townhouses from Dh2.4 million.
"There's a lot of historical association tied in with Mirdif among UAE nationals and even among Gulf investors," said Iseeb Rahman, CEO of estate agent Sherwoods Property, which is handling the Mirdif Hills sales for the developer, Dubai Real Estate Investment Co, a Dubai Investments subsidiary. A two-bedroom starts from Dh1.4 million and a three-bedroom at Dh1.6 million.
Interestingly, land values at Mirdif are relatively high, estimated to be in the range of Dh400 to Dh600 a square foot. According to Rahman, that is on par with current values in some of the Jumeirah neighbourhoods. For the developer to then maintain the price band between Dh1 million to Dh2 million is what could make Mirdif Hills a strong offering for budget-minded investors.
And there are also restrictions on vertical properties — they cannot go beyond four storeys, much in keeping with the understated charms of that location.
For Dubai Investments, it means taking its real estate aspirations beyond the Dubai Investments Park development. It has a close association with Union Properties, the name behind the hugely popular Uptown Mirdif.
Mirdif Hills — which will feature just over 1,000 homes — is scheduled for completion by late 2019. There will also be retail offerings in keeping with the community-theme, as also a hotel and business centre.
"The moment the announcement was made on Thursday [December 8] about the launch, we have had strong interest — 500 enquiries in six hours," said Rahman. "The payment split is 50 per cent during the construction phase and rest on handover. First Gulf Bank has signed up for mortgage support."
The initial construction-related works are progressing on site. The main contractor's name is to be announced shortly.
Outside of the 'New Dubai' freehold clusters, investors are now making a beeline for Dubai South, the areas around Al Barsha, Sports City, some of the clusters within Dubailand and at Jumeirah Village.
"The key requirement for mid-market properties is the cost of land for the developer — Dh100 per square foot or thereabouts is what I would say is ideal for our projects," said Rizwan Sajan, chairman of the Danube Group, in a recent interview. "Anything higher than that will require a lot of adjustments."
All rights reserved to the initial publisher for Gulf news.
Collected and published by Arms &McGregor International Realty® editorial team. Get in touched with us at marketing@armsmcgregor.com