Low rents spell bonus for movers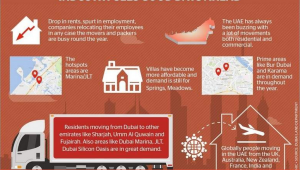 It is almost a month left and as the year comes to end UAE movers and packers are busy drawing up schedules to welcome the promising 2017 as it happens to be their peak time.
At the start of the new year usually most of the companies enforce their employment strategy and strategic plans based on their available budget. It could be drop in rents, spurt in employment or companies relocating their employees, in any case the movers and packers are busy round the year. The UAE has always been buzzing with a lot of movements in both residential and commercial.
"The overall trend this year has been one of increasing relocations as compared to last year. This is due to several factors including a slight reduction in rents, a greater availability in housing and steady lower associated costs. This makes it even more important to develop innovative methodologies to accommodate this increased demand. While mobility has increased all over Dubai, the vast spread of apartment housing across the city has in turn led to greater demand than that for villas. Especially the hotspots areas Marina/JLT, Barsha," said Albert Lopez, founder, Innovation Mobility and a veteran with an experience of three decades in the industry.
"As Dubai is a land of opportunity with ever increasing companies for both small and medium enterprises and global players, companies are looking at larger premises to cater and meet their business needs. As such, we have seen quite aggressive relocations trends, given the lower rents and newly finished projects in many areas of the city. However realty prices, location and other factors also play a key role."
Birdgeway Relocations a two decade old company in Dubai endorses a positive sentiment in the market and is all geared up for busy 2017.
Javed Abdul Wahab, director, Bridgeway Relocation, said: "We have seen a trend of residents moving from Dubai to other emirates like Sharjah, Umm Al Quwain and Fujairah. Also areas like Dubai Marina, JLT, Dubai Silicon Oasis are in great demand. Villas have become more affordable and demand is still for Springs, Meadows. Prime areas like Burdubai and Karama are in demand throughout the year."
"Earlier we had clients planning three-four months in advance now it is at a short notice of three-four weeks. The movers and packers are ever busy as whether people move in or out we are always busy relocating in the UAE and within the country. We are all hopeful of booming 2017 given that Dubai is now home to so many nationalities and hub to the global tourists. The beginning of the year lots of companies move their staff here and with Dubai Shopping Festival on cards the influx of tourists is on rise which only means we will see people moving within UAE and keeping us busy."
Industry experts said that gone are the days when there were peak and lean season, relocations is a year round business, in part due to the vagaries of global business demand, there are definitely periods of more activity due to families or individuals that want to take advantage of holiday season to complete their moves. Moving has been fairly steady throughout the year, be it local moves within the UAE or international moves to or from this region.
E-Movers, established in 2003, operating in Dubai, Abu Dhabi and Sharjah and Qatar has a strength of 400 plus people, a fleet of over 70 trucks and over 50,000 sqft. storage facility – largest relocation company in the UAE has also observed unique trends in market where the property buyers are preferring to accommodate their own home instead of leasing it out. Chirantan Joshi, CEO Emovers, said: "The business for movers and packers in general has been good. We stand to benefit in every circumstance when people downgrade as well as upgrade.Yes we have certainly seen our customers moving in their villa which earlier the trend was to lease out."
Global moves
Mark Neave, general manager relocations, Crown Relocations, said: "Crown helps the assignees from pre-move planning through settling into their new home destination. Crown's people understand the excitement and anxiety of relocating as many have relocated themselves. Whether it's the corporate challenge of managing globally mobile employees, or an individual move for a family. We have seen 40 per cent increase in all enquiries via our website over 2016. Inbound shipments from all over the world have remained reasonably stable over the past three years."
The company is very positive for the outlook for our business not only in the UAE but also wider Middle East Region. In 2016 Crown's most customers came in from the UK, Australia, New Zealand, France, India and Pakistan.
"We are growing and investing in people and assets particularly in the UAE and see a very bright future for not only our company but also for UAE too. The sectors we work together range from FMCG, finance, IT, consulting and healthcare. Lately we have seen growth in construction and healthcare," added Neave.
"We see more activities around the schedules of school year so our business is quite seasonal. Now it's a busy to time for families from the southern hemisphere countries since their school year is ending. The school year in the UAE starts in autumn so we are busy helping families to get settled in to their new home during the summer months," concludes Neave.
All rights reserved to the initial publisher for khaleej times.
Collected and published by Arms &McGregor International Realty® editorial team. Get in touched with us at marketing@armsmcgregor.com