Looking for a bright spot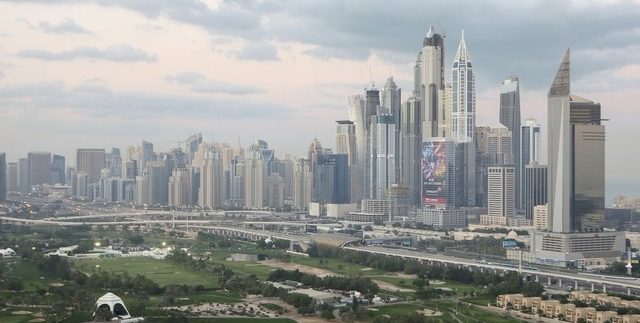 Landlords mix and match office offerings to lock in tenants
Tighter budgets, staff cuts and business consolidation as a result of lower oil prices and global economic worries all have affected Dubai's office property market. A remarkable number of large companies run their entire Middle East operations from the emirate, particularly in the oil business, but many of these companies are now being forced to downsize their operations.
One of the latest examples was the Iraqi government asking large oil and gas firms that run their operations in Iraq from offices in Dubai to downsize regional hubs in the UAE. These large corporations include major companies such as Royal Dutch Shell, British Petroleum, Total and Lukoil, which employ thousands of staff in the region.
Royal Dutch Shell said in May this year it would cut 12,500 jobs, or about 12.5 per cent of its workforce worldwide, and will be downsizing its office in Dubai and rearranging its operations in the Middle East, according to reports. "Firms are looking to consolidate their office sizes as they look to reduce ongoing expenditure," says Dana Salbak, Associate Partner for Research at Knight Frank. "This is not only limited to organisations involved in hydrocarbons, but across all sectors, including construction and technology, as caution in the market persists on the back of lower oil prices.
"In light of this, companies are also looking to consolidate their offices in Dubai and create regional hubs. They are also looking to consolidate into locations that allow dual licensing, meaning both free zone and onshore, which provides greater flexibility."
Local companies, mainly in the energy and infrastructure sector, as well as government-related entities, were also forced to reduce staff numbers, leading to shrinking demand for office space. The same trend was seen among banking and finance, real estate and construction companies. "Large corporate and government entities often form the main tenants of prime office space, and with uncertain economic conditions and low oil prices, demand from these organisations has weakened considerably," says John Stevens, Managing Director of Asteco.
According to Asteco's third-quarter report, office rental rates were at their lowest point since market peak in late 2008, with rates in prime office buildings tanking to as low as Dh1,600 per square metre in Dubai, 4 per cent less than in the previous quarter.
A recent report by JLL points out that the market segment of offices larger than 1,000 sq m are under particular pressure, a trend that, on the other hand, benefits owners of smaller units.
"There has been a trend towards smaller deals, with few large transactions agreed during the third quarter," says Craig Plumb, Head of Research at JLL Middle East and North Africa. "It reflects caution in the face of more challenging economic conditions in Dubai and across the broader region. This has resulted in a number of firms downsizing their staffing and space requirements."
A number of office tower owners in Dubai, among them Emirates NBD and Emirates REIT, have been reacting to the trend towards less space demand and realigned their prime office space by dividing office floors into smaller leasing units of 50, 150, 250 and 300 sq m, a strategy that has proven successful.
"This trend is expected to be followed by other landlords seeking to cater for the current strength of demand for small units," Craig says.
Flip side
The downsizing in the oil industry is partly being set off by Dubai's relentless efforts to diversify its economy through initiatives such as the smart city programme, the Islamic economy initiative, the run-up to the World Expo 2020 and the opening of new free zones such as Dubai South that target non-oil businesses.
"There is a more pronounced interest for smaller offices in free zones such as Dubai International Financial Centre [DIFC] and Tecom, while grade A buildings in Jumeirah Lakes Towers and Downtown Dubai have also seen a 5 per cent increase in the upper rental range after a sharp drop in prices during the previous quarters," says David Godchaux, CEO of Core Savills.
"The most traditional Dubai business district, Business Bay, saw stable rental prices as tenants there [consisted not only of] large corporations, but also many small and medium-sized businesses, especially start-ups," he adds.
Dubai's new initiatives are especially enticing to a new breed of companies, among them technology start-ups, media and design companies, green technology firms, pharmaceuticals and law firms, building a buffer against the effects of the oil price drop on real estate.
"While the office market in Dubai remained relatively subdued during the first half of the year due to the slowdown in the economy and consequent cutbacks in the job market, performance in select areas with free zone status such as Dubai Media City and Dubai Internet City continues to be strong," says Salbak. "Likewise, grade A buildings continue to command strong rental rates as demand for quality space in central locations such as DIFC remained robust.
"The established infrastructure, ease of accessibility, availability of parking space and developed amenities continue to play a key factor in corporates' choice of office space."
Meanwhile, Knight Frank points at a pick-up in demand for office space in the Dubai Design District (d3), where tenants enjoy relatively affordable quality space, a dual licensing system and the area's proximity to Downtown Dubai. Small and medium-sized firms, including international and local designers, artists and creative entrepreneurs, are among those flocking into the d3.
Outside the free zones, the onshore environment regulated by Dubai's Department of Economic Development has been subdued this year, according to Knight Frank data.
"This prompted landlords to become more proactive and accommodating to tenant requests," says Salbak. "As mentioned, office buildings that allow dual licensing, such as One Central at the Dubai World Trade Centre District and d3, have strong demand by offering extra flexibility, whereas prime office buildings in Dubai of grade A quality continue to see reasonable levels of demand from both local and international occupiers on a smaller scale."
Office conversion
The expected total supply in Dubai by the end of the year is around 8.75 million sq m, although some owners have been converting office space into residential real estate. The third quarter saw a number of office projects converted into alternative uses, according to Plumb.
"For example, Le Presidium, Nova and Moon towers, occupying 55,550 sq m in total, have been converted into residential buildings, resulting in a small reduction in total office stock from what we were previously expecting for the period," says Plumb.
Overall, the third quarter witnessed the delivery of 51,000 sq m of office space, of which 64 per cent were single-owned projects in Tecom, including The Butterfly and Al Sajwani buildings in Dubai Media City. The remaining 36 per cent were office space in Business Bay, which has been the most active precinct for completions this year. An additional 152,000 sq m of office space is scheduled to be delivered until the end of the year, almost three times the space delivered during the third quarter, according to JLL.
Business Bay continues to be the focus for completions, with other projects expected to be completed in Dubai Silicon Oasis, the Greens and Tecom. By the end of next year, supply is seen to reach more than 8.9 million sq m.
While most real estate researchers think that the drop in demand will reverse next year and rents will rise after bottoming out in the coming quarters, it still remains to be seen if impulses from Dubai's diversification can offset the weakened hydrocarbon segment.
Dubai, however, is positioned to be better off than Abu Dhabi, where organisations look to review their entire real estate requirements. Some of these firms have expressed interest to operate a regional hub in Dubai than stay in Abu Dhabi.
"We had originally anticipated that the market would improve after the summer, and although there has been renewed and greater interest, many occupiers remain hesitant and choose to extend existing leases and revisit their requirements in the new year," says Salbak. "We now anticipate the subdued office market to continue for some time. However, certain buildings and areas, namely DIFC, Dubai Media City and Dubai Internet City, will continue to outperform the market, given limited supply and licensing benefits."
All rights reserved to the initial publisher for lighter side of Gulf news.
Collected and published by Arms &McGregor International Realty® editorial team. Get in touched with us at marketing@armsmcgregor.com