Dubai tops list of most expensive cities for New Year's Eve 2016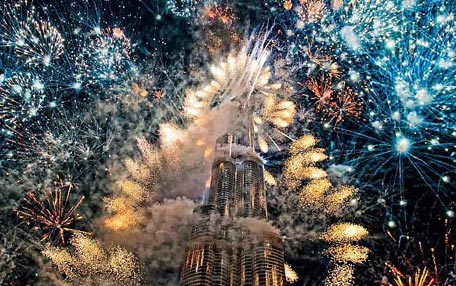 International currency exchange firm Travelex today revealed where New Year's Eve revellers can get the best value to bring in the New Year.
Dubai has again been ranked the most expensive place to celebrate New Year at Dh2,240 per person in the annual survey of seven popular global cities, with Edinburgh, Scotland, rated the best value for the second year in a row at Dh725, a difference of Dh1,515.
In its annual research the company measured the average cost across selected establishments, with results reflecting expected costs for a partygoer buying food, entertainment and refreshments.
Sydney offers an affordable option for UAE residents wanting to get abroad for the holiday and Paris is cheaper than New York by Dh700 to ring in 2017.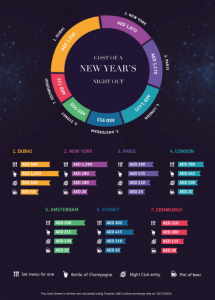 The full listing (from cheapest to priciest) is as follows:
1. Edinburgh (Dh725)
2. Sydney (Dh950)
3. Amsterdam (Dh955)
4. Paris (Dh1,170)
5. London (Dh1,435)
6. New York (Dh1,870)
7. Dubai (Dh2,240)
Errol Fonseca, head of retail at Travelex, explained New Year is a busy time for Travelex, with customers flying off for city breaks to enjoy the festivities.
"We always see an increase in orders of foreign currency in the run up to the new year, so it's our pleasure to put these figures together for our customers. Exchange rates can also play a big part in decision-making and up to date figures can be found our website," he said.
All rights reserved to the initial publisher for lighter side of emirates 247.
Collected and published by Arms &McGregor International Realty® editorial team. Get in touched with us at marketing@armsmcgregor.com