Bids open for Bahrain's stalled Marina West project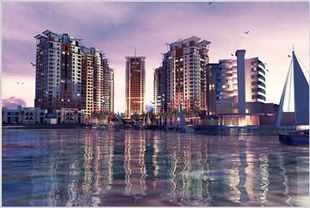 A bidding process to acquire and complete Bahrain's largest stalled real estate project, Marina West, has opened, according to local media.
Bahrain's Committee for Stalled Real Estate Projects, which sits within the Justice, Islamic Affairs and Endowments Ministry, announced that interested buyers have until end of January to submit documents proving technical capability, financial position and experience in completing real estate developments, Gulf Daily News said.
Work on the $750 million Marina West project started in 2007 and was scheduled for completion in 2010. However, it was paused in March 2010 due to the global financial crisis.
The project was intended to comprise 10 residential towers with over 1,000 apartments and a five-star hotel.
The committee last week sold off another stalled development, Juffair Views, for $9.5 million (BD3.6 million) through a public auction. It is responsible for auctioning off other stalled developments in Bahrain, including Sunset Hills and Amwaj Gateway.
The committee was formed primarily to protect the interests of homebuyers, said Bahrain Property Development Association chairman Aaref Hejres.
"After the public auction of Juffair Views and now the initiation of bidding process for Marina West and Amwaj Gateway, the government is sending a strong message to the real estate developers," Hejres was quoted as saying.
"The issue of stalled projects is no doubt complex but solvable and, yes, authorities were initially late in taking action, but now we sit on solid ground. It is only after exhausting all options, the panel calls for an open bidding process," he added.
However, Hejres said it would be difficult to find a solid party willing to pay millions for Marina West as a whole project.
All rights reserved to the initial publisher for lighter side of arabian business.
Collected and published by Arms &McGregor International Realty® editorial team. Get in touched with us at marketing@armsmcgregor.com